With the rapid growth of network transmission requirements, data center operators must look for high-density cable management equipment that can provide higher performance without expanding to a larger physical space. Optical fiber distribution frame (ODF) as an important optical cable management equipment, is widely used in data centers to store, organize, manage and protect optical cables. In order to let you to better understand and use optical distribution frame (ODF), this article will explain What is an Optical Distribution Frame.
What is ODF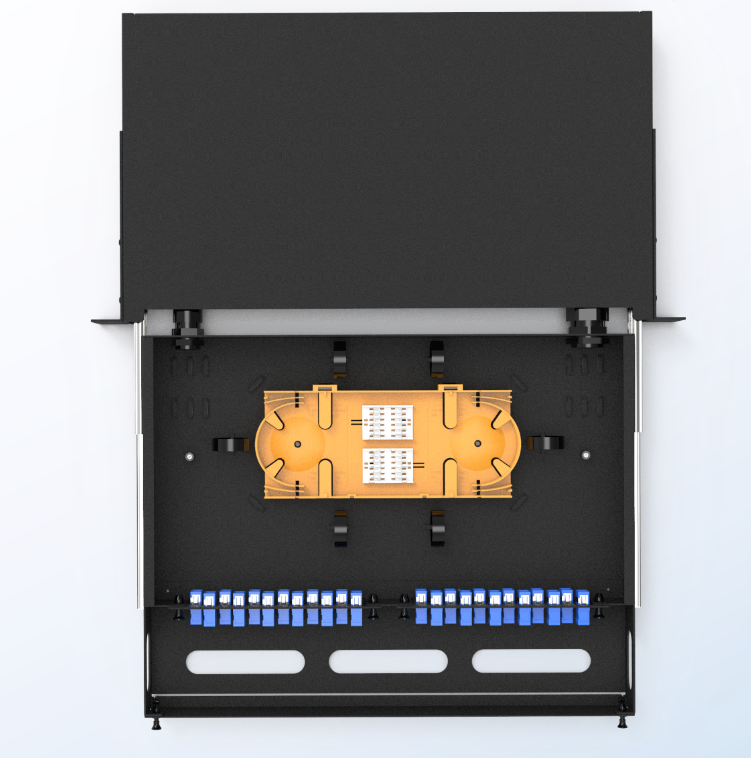 Optical distribution frame (ODF) is a drawer type metal fiber frame with standard 19 inches size. It can be installed in the distribution frame cabinet or wall-mounted.The optical fiber adapter is assembled in the optical distribution frame and then the optical fiber jumper is connected with fiber optic adapters to lead out the optical signal to realize the optical wiring function. The optical distribution box is suitable for the protective connection of optical cables and distribution pigtails, and is also suitable for the use of optical fiber terminal points in the optical fiber access network. Its connections plugging durability life>1000 times. The whole radius diameter is controlled to ensure that the curvature radius of the fiber at any position is greater than 30mm. Each optical fiber is clearly marked, so as to avoid possible confusion caused by disassembly during maintenance.
The various fiber optic connector ports of the optical distribution frame (ODF) are convenient for termination and flexible installation. There are a variety of structural designs such as drawer type ODF and fixed type ODF. The modular optical fiber distribution frame (ODF) is more convenient and flexible to terminate. It supports the management of various optical fiber connectors, such as SC, LC, ST, MT-RJ, etc. Up to 48-core LC or MT-RJ (24 dual-port LC or 24 MT-RJ) optical fiber connector ports can be terminated in a 1U space. Two layer of optical fiber splice trays are used for the splicing fiber cables and management of redundant multiple optical fiber cables. The overall design of the optical fiber distribution frame (ODF) makes the installation convenient and quick for the operator.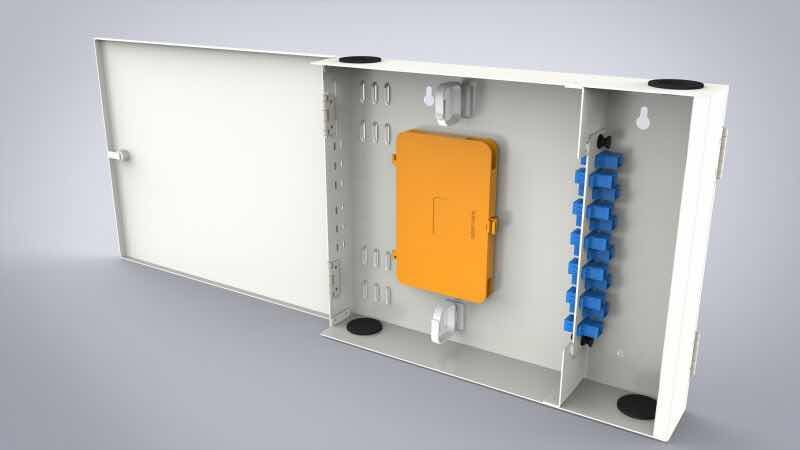 What Are Main Function of Optical Distribution Frame in Telecommunication?
The optical fiber distribution frames(ODFs) are widely used, which are including the introduction, fixing and stripping protection of fiber optical cables, the fusion and protection of optical fibers, the storage of pigtails, the storage and management of jumpers, and the fixed connection and cross-connection of optical fibers. At the same time, value-added module units such as optical splitters and wavelength division multiplexers can be installed according to customer requirements. It can also be used for the termination, use and management of optical cables in wiring closets and equipment rooms.
UnitekFiber Solution supplies professional products and services of fiber Indoor/outdoor cables, Fiber cable management, high density datacom cabling, Fiber optical connectivity and PLC splitter and so on . We have mature production experience and strict product quality inspection. Our products and solutions are widely applied in 4G/5G, Data Center and Cloud Computing industry etc.
For the more information about ADSS cable parameters test, please contact us at [email protected] .We will try our best to support you.