With the development of wireless technology, the horizontal wiring bandwidth in commercial and industrial buildings has surpassed 1Gbps, and the ensuing requirement is that the integrated wiring backbone infrastructure supports at least 40Gbps and 100Gbps speeds. This means that the high-density application promotion of data centers is very suitable for current development and demand. The optical fiber OM5 broadband can not only support 802.11ac wi-fi systems, but also support high-density 5G wireless networks. Next, let's take a look at OM5 fiber jumpers
OM5 fiber jumper was originally called broadband multimode fiber patch cord. It is a new standard for fiber optic jumpers defined by TIA and IEC. The fiber diameter is 50/125μm. Compared with OM3 and OM4 fiber optic jumpers, OM5 fiber optic patch cords can be used for higher bandwidth applications.In February 2017, TIA stipulated that the identification color of OM5 fiber jumpers was aqua green.
What is the difference between OM5 fiber optic jumper and OM3/OM4 fiber jumper?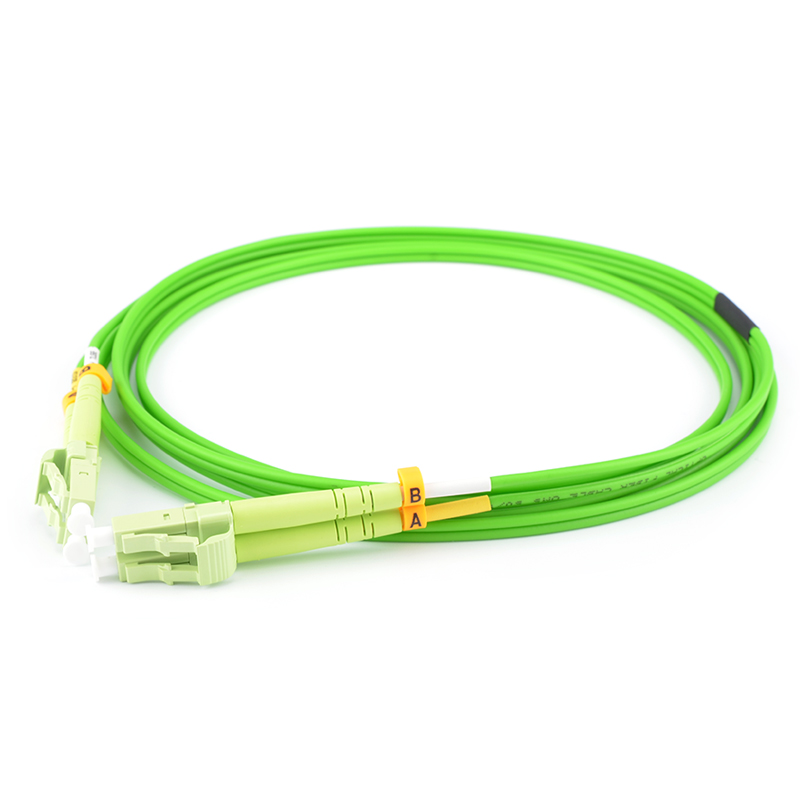 Generally speaking, the outer sheath color of OM3 and OM4 fiber optic jumpers is aqua or purple, while the outer sheath color of OM5 fiber optic patch cords is green.
The working wavelength of OM5 fiber jumper is 850/1300nm, and it can support at least 4 wavelengths. The usual working wavelengths of OM3 and OM4 are 850nm and 1300nm. In the same wavelength window, the transmission distance of this multimode fiber jumper is different.
OM5 fiber jumper has a higher breakthrough in effective mode bandwidth (EMB). It increases the effective mode bandwidth (EMB) at 850nm wavelength to 6000MHZ.km.It reaches 8000MHZ.km near the 880nm wavelength, which is far beyond the traditional OM3 and OM4 multimode fiber jumpers.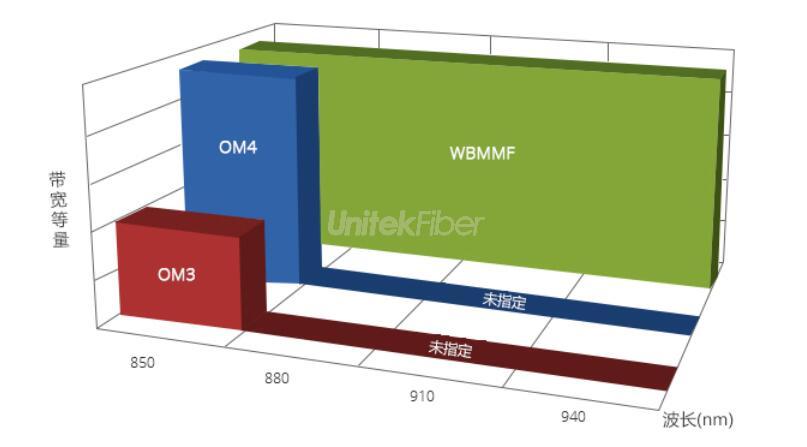 What are the advantages of OM5 fiber optic jumpers?
OM5 fiber optic patch cords have the advantages of strong scalability, strong compatibility and interoperability, and cost reduction. What's more, OM5 fiber optic jumpers have been widely recognized.
The introduction of OM5 fiber optic jumpers has aroused widespread concern and discussion, and it will bring huge changes to the data center. Believe that OM5 fiber optic jumpers will be widely used in the near future. Unitekfiber is a manufacturer of fiber optic jumpers.
Shenzhen UnitekFiber Solution Limited is a manufacturer of wavelength division multiplexers, optical fiber jumpers, optical fiber adapters, optical fiber parts, PLC splitters, optical transceivers, and optical fiber connectors. If you need any support,don't hesitate to contact us.sales@unitekfiber.com