With the increase in data throughput, transmission rates of 40Gb/s and 100Gb/s are more common, and they have now become the trend and hotspot of data center cabling systems. In addition, MPO MTP patch cables can be used for standard optics for 40G and 100G Ethernet. Interface, so MPO MTP patch cables will surely replace traditional optical fiber connectors. At present, data centers, telecommunication centers, enterprises and even campuses have begun to use MTP MPO cabling systems. This cabling system uses MTP MPO fiber optic patch cables, MTP MPO fiber optic distribution boxes, MTP MPO adapters and MTP MPO adapter panels. It is built, and it can greatly save network deployment time while providing unlimited possibilities for high-density cabling. UnitekFiber will introduce the common type of MTP/MPO products used in datacenter cabling.
MTP/MPO Cabling Equipment
In order to meet the needs of high-speed networks, the MTP/MPO datacenter needs to use a variety of different types of equipment to meet a variety of wiring requirements. The following is an introduction to the four types of equipment that MTP/MPO datacenter need to use:
1. MTP/MPO fiber optic patch cable
MTP/MPO fiber optic patch cables are composed of MTP/MPO connectors and optical cables, which can be used in single-mode and multi-mode applications. The fiber type is usually OM3 multi-mode fiber or OM4 multi-mode fiber. Surprisingly, there are many types of MTP/MPO fiber patch cables can be choose. According to the number of fiber cores, MTP/MPO fiber patch cables can be divided into 8 cores, 12 cores, 24 cores, 36 cores, 48 cores, 72 cores and 144 cores MTP/MPO fiber patch cords. And the MTP/MPO fiber cables can be divided into MTP/MPO backbone trunk cable and MTP/MPO branch fiber cable.
2. MTP/MPO optical fiber distribution frame
MTP/MPO optical fiber distribution frame has the characteristics of modular design, low insertion loss and flexible deployment. It is usually deployed in high-density MDA (main distribution area) and in the ODF (Optical Distribution Frame) of EDA (Equipment Distribution Area). It can also be installed in the FHD series rack-mounted or wall-mounted chassis to achieve capacity expansion.
3. MTP/MPO adapter
MTP/MPO adapter can accurately connect two connectors, widely used in optical fiber communication systems, local area networks, wide area networks, optical fiber access networks and video transmission, and has low insertion loss and good interchangeability And the advantages of high temperature resistance.
4. MTP/MPO adapter panel.
The MTP/MPO adapter panel adopts a standardized jack (RJ) latch structure, which can realize the interconnection of various pre-terminated products, and complete the fiber access and port output. The MTP/MPO adapter panel also can increase the port density and provide an economical and compact solution for your datacenter network. In addition, MTP/MPO adapter panel can be 4 ports, 6 ports, 8 ports and 12 ports types.
The Application of MTP/MPO Products in Data Center
1. Data center SAN (storage area network)
MTP/MPO plug-and-play cassette modules have been widely used in data centers, such as backbone products that support hundreds of fiber optical ports. Therefore, a single cabinet must maintain a large number of optical interconnects and jumpers. As SAN requires high-density and modular cabling for easy reconfiguration, MTP/MPO plug-and-play cassette modules are very suitable to meet the requirements of these infrastructures.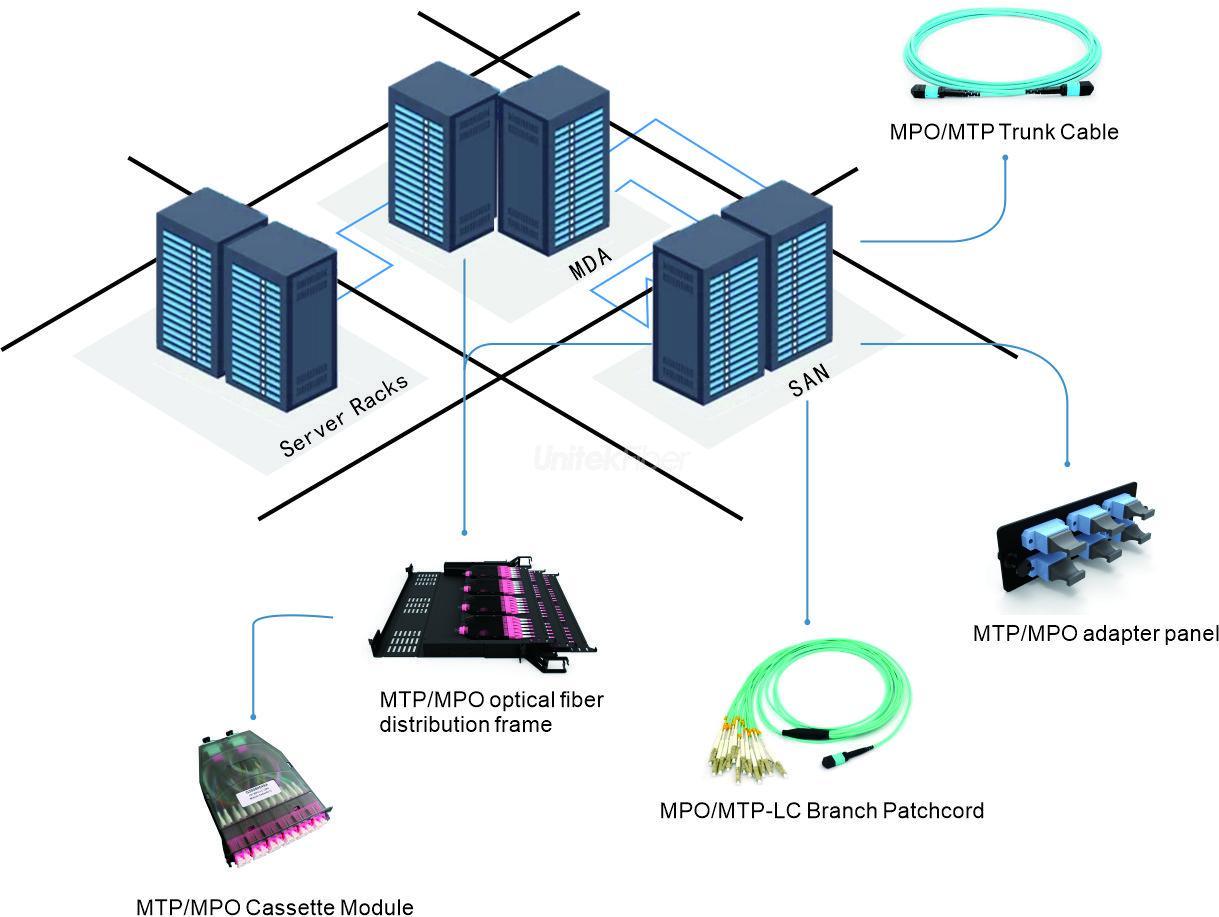 2. Colocation data centers
customers and new services of colocation data centers contribute to the expansion of the network. The scalability and flexibility requirements are relatively high, and the ultra-high-density MTP/MPO cabling system is favored by the host retreat data center because of its high flexibility and convenient expansion.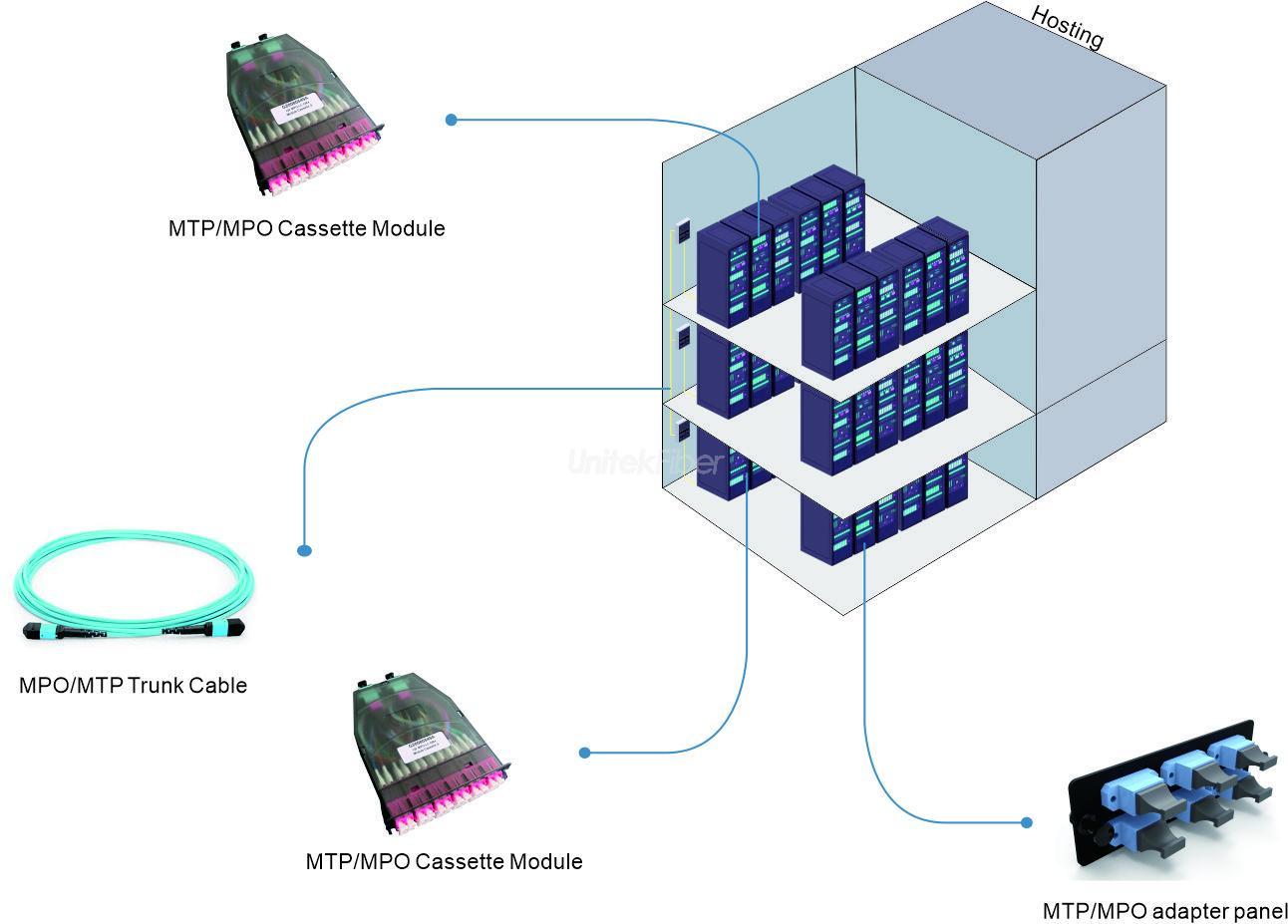 3. Enterprise Network/Campus Network
Ultra-high-density MTP/MPO fiber optic distribution frames are also widely used in corporate networks or campus networks. One of its highlights is plug and play. Installation is quick and easy, no professional optical fiber knowledge is required. Traditional splicing installation technology can also be applied.
Conclusion
The MTP/MPO cabling system can not only greatly save cabling space, but also simplify the cabling process and facilitate cable management. Therefore, the MTP/MPO cabling system is the perfect solution for high-density applications. Although the construction of the MTP/MPO wiring system will cost relatively large costs in the initial stage. But in the long run, it is definitely a wise and cost-effective decision for network deployment.UniteFiber produces a series of high-quality fiber optic cables. Such as ADSS fiber cable,OPGW optical cable, GYTA fiber cable, Figure 8 fiber cable etc.. If you need any support,don't hesitate to contact us [email protected].